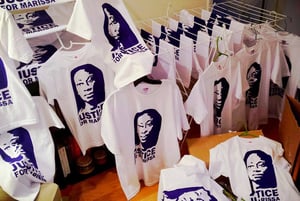 $

15.00
SIZE LARGE :: Hand silkscreened in purple and maroon on white short-sleeve T-shirts (shirts manufactured in the USA). Front: Stencil design of Marissa's face with "Justice for Marissa" text underneath. Back: "Black Women's Lives Matter! FreeMarissaNow.org". Shirts are pre-shrunk but run a tiny bit small; see below for measurements of the width of each size lying flat from armpit to armpit to get a sense of which size to order. These are DIY shirts made with love in a tiny NYC apartment; small imperfections may exist!
Small = 17' across
Medium = 19' across
Large = 20' across
XL = 21' across
A note about timing of order shipments: We are a small collective of individuals all working full time and usually are only able to mail out orders on Saturdays. Rest assured we want you to support Marissa and wear your shirt proudly ASAP, but it may take us several days to get your goods shipped out to you!! Email us at forthebirdscollective@gmail.com with any questions, and put T SHIRT ORDER in the subject line. If $15 is too steep for you but you really want to represent Marissa in your community, send us an email, we can work something out.
Marissa's excellent legal team is working pro bono, which is wonderful. However, Marissa faces over $250,000 in legal expenses, such as court fees, securing expert witnesses, travel costs, depositions, processing evidence, etc. All profits made from these shirts will be donated directly to Marissa's Freedom Fundraiser: http://gogetfunding.com/project/marissa-alexander-freedom-fundraiser
*We have heat set the ink for you but if you'd like to make sure, give your design a quick ironing at the highest setting the fabric can take, placing a thin piece of fabric in between the shirt and the iron.